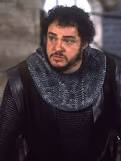 When I think of the Master Cook of Guardia Palace, Fructus Bell, I always imagine John Rhys Davies and hear his voice. The cook is a big, burly, good-humored man who fell into his profession by 'Sheer Hello' as my friend Suzanne would say. As a young man, Fructus served in the army of Earden. Lord Borchard noticed him cooking a roast over the fire for other soldiers, and being fond of food and fond of men, ordered him to become his personal servant. He also took him to bed, but Borchard, being a man of many appetites, soon assigned Bell where he would be most appreciated, in his palace kitchen. Sometimes it seems, between Bell and his partner, Master Devers, (who is in charge of the servants),  they run the place. At least I often see everything through their eyes and actions. I think that is the way with large organizations, palaces especially, the ones with the most knowledge of what's going on and the most freedom to do something about it are the ones with a little power in the shadows. Between this pair of loving gentlemen and my pair of Good Women (Cere and Lyla) on the other side of my world in the city of Saels, I've got things covered, perspective-wise.
Master Bell's Oat Pudding for Invalids and Those Just out of Prison
In a bowl, whisk two fresh eggs
Add 2 cups of goat or sheep's milk ( easier accepted by the stomach)
Incorporate 4 spoonfuls of honey
Pinch of salt
Add half a cup of oats or other meal ground fine.
Cook in a pot over a low flame with a sliver of cinnamon or ginger until it thickens.
Pour into a crock and place in the oven, baking till it sets.
Cool. Allow the invalid to eat as much as is good for them, but prevent gorging, as their stomach may have shrunk and they must hold all down in order to flourish .